Grilled Middle Eastern Turkey Burgers with Yogurt Sauce
These Grilled Middle Eastern Turkey Burgers with Yogurt Sauce are loaded with flavor and they're low-carb, low-glycemic, and South Beach Diet Phase Two, and if you eat the burgers in lettuce wraps they can be Keto or South Beach Diet Phase One! Use the Recipes-by-Diet-Type Index to find more recipes like this one.
If there's anyone reading this who just turned their nose up a bit at the mention of turkey burgers, stay with me here for a minute. While it's true that ground turkey can sometimes be a little ho-hum, these Grilled Middle Eastern Turkey Burgers with Yogurt Sauce have finely chopped mint and parsley and are seasoned with an interesting mix of paprika, cumin, coriander, and pepper flakes, for a delicious turkey burger that's moist and flavorful. I actually had the leftovers for breakfast and again for lunch the day after I made them, which is a pretty high recommendation in a house like mine where the fridge is always packed with interesting things to eat.
I ate the turkey burgers wrapped inside low-carb pita bread, but you could also enjoy them in lettuce wraps for a version that's Keto or South Beach Diet Phase One. I served them with a dollop of
Tzatziki Sauce
enhanced with some freshly chopped mint and parsley. I thought that was the perfect sauce to go with the flavor of the turkey burgers, but if you don't want to go to the trouble of making Tzatziki, I have a few quicker sauce recommendations after the recipe.
Take the ground turkey out of the package and break into pieces in a bowl, then let it come to room temperature on the counter while you chop the herbs and measure spices. Mix garlic and salt and sprinkle over the meat.
Use your hands to gently mix in the garlic, salt, olive oil, chopped mint, and chopped parsley. If you're making this for young kids who are suspicious of green bits in their food, you might want to chop the herbs even more finely than I did.
I wanted to be sure the interesting mix of spices were evenly distributed in the meat without over-mixing, so I sprinkled each spice over the surface of the meat as I measured it. Then when all the spices had been added, I mixed with my hands, just enough to combine.
The recipe in Fine Cooking called for four patties, but for 1 1/2 lbs. of meat, I went with six smaller patties. First I divided the mixture into six balls so I could get them close to the same size. (Next time I'd put a piece of cling-wrap on the cutting board!)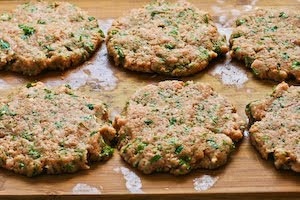 Then I flattened and shaped each burger on a cutting board. You need to chill the patties for a bit before you grill them, so use a cutting board that's small enough to fit into the fridge. I covered it with cling-wrap, but it's probably not essential. I chilled them about 30 minutes, but next time I might chill a bit longer to help the meat stay together on the grill.
Even though the mixture had a couple of tablespoons of olive oil, I brushed the top of each patty with olive oil, then put that side down on the grill. (I have a brand new natural gas grill with cast iron grids, and the grids aren't that well seasoned yet, so if your grill is well-seasoned you might not need to do this.)
Grill the patties over medium heat, about 5-6 minutes per side. If you want to get the grill marks like I have, rotate them after a few minutes on the first side.
Grilled Middle Eastern Turkey Burgers with Yogurt Sauce
(Makes 4 large or 6 medium turkey burgers, recipe slightly adapted from Fine Cooking Grilling Volume 2.)
Ingredients:
1 1/2 lb. ground turkey
1 tsp. finely minced garlic
1 1/2 tsp. salt (I used fine sea salt)
1/4 cup finely chopped fresh mint
1/4 cup finely chopped fresh parsley (I used curly parsley, but either type will work)
2 T olive oil
2 tsp. sweet paprika
1 1/2 tsp. ground cumin (recipe called for 1 tsp., but I love cumin so I used a bit more)
1/2 tsp. ground coriander
1/4 tsp. Aleppo pepper (recipe called for cayenne, and any type of ground red pepper would work)
Instructions:
Click Here for Printer Friendly Recipe

Low-Carb Diet / Low-Glycemic Diet / South Beach Diet Suggestions:
Find More Recipes Like This One:
Nutritional Information?